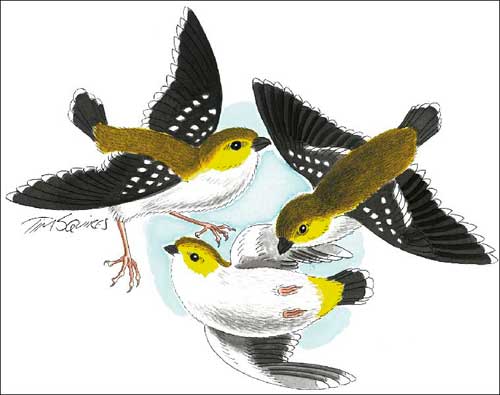 Bird festivals have become an international phenomenon in recent years but there is only one that can lay claim to having an endangered bird literally on its doorstep.
The Bruny Island Bird Festival might not be the biggest –  that honour goes to Birdfair in Britain which attracts more than  20,000 birders annually – but it can boast not just lectures and bird tours, but a sighting of the forty-spotted pardalote.
 "Forty-spot" is one of the rarest birds in world with its numbers in freefall in recent years. There are still strongholds of the tiny bird on Bruny, however, and these are easily accessible. There are even reports of forty-spotted pardalotes being seen within the grounds of the festival site itself at Adventure Bay, on Bruny's South Island.
 The first Bruny Bird Festival was held two years ago and because of its success in attracting large numbers of visitors to the  island another is to be held between  October 25-28 this year.
 The festival is believed to be the biggest inAustraliaand joins the ranks of not only the British Birdfair but other notable events like the Alaska Bald Eagle Gathering, the Eagle Fest – also in the United States– and the Birds of Chile Festival.
 In Australia such events tend to concentrate on "bird weeks" which are tied in with commercial tourist ventures and can be expensive. The Bruny Island Bird Festival  is free although some guided bird tours, including a four-hour adventure cruise off the Bruny coast, require a fee.
 The festival, organised by members of the Bruny Island Environment Network (BIEN), aims to plug into the growing market in both local and international birding tourism, which is largely driven by the one million registered birders in the United Kingdom and the 25 million people in the United States who list bird-watching as their main leisure activity.
Proceeds from the Bruny festival support bird habitat conservation works and community awareness projects. These, of course, include preserving the white gum (Eucalyptus vinmalis)  habitat of the forty-spots.
 The rare pardalote is only found in Tasmania and is under threat from not just land clearance but, possibly, climate change. Its population has decreased by at least 50 per cent in recent years, and now stands at between 1000 and 1500 birds.  The pardalotes are leaf gleaners, feeding on lerp and manna in the treetops of white gums.
A leading campaigner to save the forty-spot has been a tourist operator based on Bruny, Tonia Cochrane, who has taken out covenants to preserve white gum habitat on her 205ha property, Inala. During the festival she will run tours of  Inala which is home to not only forty-spots but the 11 other bird species that are endemic to Tasmania.
The among speakers at the festival will be author and television comedy writer  Sean Dooley whose bird-watching book The Big Twitch was a best-seller when published in 2005. The book tells of his quest to see as many Australian birds as possible in a calendar year.  The result was a world record-breaking 703 birds.
 Dooley is currently editor of Birdlife, the magazine of BirdLife Australia.
 Booking for bird festival events are now open and can be made at www.bien.org.au.