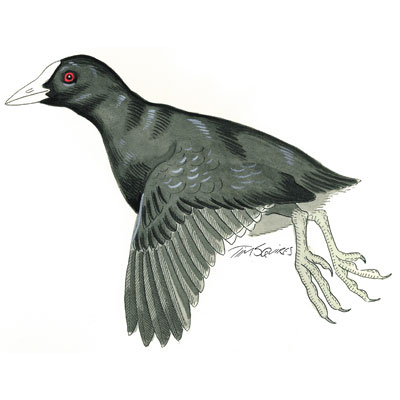 A COOT in need of friends, or even love,  was seen pottering around the Browns River at Kingston during the late summer, attracting attention from local residents worried about its lonely plight.
The Eurasian coot usually goes about its business in sheltered watercourses unnoticed and I was touched when I received an email from a Kingston Beach couple telling me all about the visitor to the stretch of river near their home.
The coot did not have a partner and  at times was seen hanging out with wood ducks, which are common on the river and in adjoining parkland.
Coots are not uncommon in Tasmania but I was interested to read in R.H.Green's book "Fauna of Tasmania – Birds" that they do not usually breed in the state, and coots fluctuate in numbers in Tasmania as part of a great nomadic movement across Bass Strait.
They are clearly more common on the mainland where the warmer climate produces more of their main source of food, aquatic vegetation.
I must say that during the 12 years I have lived in Tasmania I've never paid much attention to coots, partly because they are common in my native Britain and I prefer to watch the local members of the family, namely the endemic Tasmanian native-hen and the purple swamphen.
And so, when I received a request for information on coots I felt a little guilty for not knowing much about them in the Australia, especially as I had watched coots just a few weeks previously while on holiday in London. With one of the coldest winters in recent years gripping the British capital in ice and snow, coots were one of the few species of waterbird that had remained in the capital's parks, where they could still find open patches of water at the centre of ornamental lakes.
The coot on the Browns River had no such problems, of course, and was content to paddle around the larger stretches of the river, diving for food growing on the riverbed.
The Eurasian coot – which as its name suggests is found right across Europe and Asia, and into Papua New Guinea  and Australia –  is a curious creature that more resembles a duck than its other family members, which tend to be land based. And it carries a name as curious as its behaviour, the term "coot" having nothing to do with the definition in my urban dictionary of a gumpy old man, but having its root in Medieval Dutch, the original meaning becoming lost over time.
The species is also called the bald coot, in reference to the white beak and frontal head-shield it carries atop a rounded, neat matt-black body. Although sometimes confused with ducks, the coot does not have webbed feet but all the same its toes have broad, lateral lobes to aid swimming.
When it comes to shore the coot can sometimes be seen in association with the dusky moorhen, which is similar in size but has a dark plumage and, in the males, a red frontal head-shield. The swamphen, also called the bald coot in Tasmania because of the red-shield on its purple body, and native-hen are considerably bigger.
Looking at them together it is interesting to note how members of one  family of waterbirds, in this case the rails, can carve a niche for themselves without competing with each other for food. The coot chooses open water, the moorhen the water's edge and the native-hen and swamhen go in search of food further afield, sometimes in paddock and pasture.
As to the query from the Kingston Beach residents of how the coot came to be there, I can only surmise that it was travelling along the coast and suddenly came across a habitat of open water, not too deep for it to dive for vegetation, that suited it and it was happy to stay before a migratory urge moved it on.
Birds, being highly mobile, come and go all the time and it is part of the excitement of bird-watching that you never know what you will stumble upon on your next outing or, indeed, you will see just looking out of the window at home. Like a coot looking for love in a cold climate.