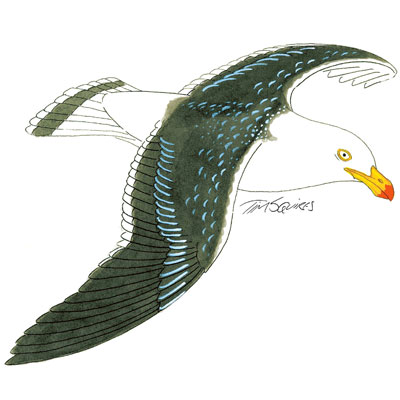 A RAINBOW spread across the ocean, framing storm-tossed waves and distant, grey mountains.
As if on cue, to make the panorama complete, a lone gull zig-zagged across the wave tops, before rising slightly and flying smack bang though the rainbow's arc.
We stood in awe, a trio of men behaving badly, who had gone to the clifftop at Dodges Ferry not to watch birds but to freshen up after an afternoon of  what can be euphemistically termed as beer and wine tasting.
We shouldn't have been on the cliff-top at all, especially me because I have a fear of heights, but one of our number who lives in Dodges Ferry insisted we go off in search of the perfect sunset.
And he took us, with the last bottle of claret from a wine club shipment he had received from France, to his favourite spot overlooking SpectacleIsland in Red Ochre Bayand Mts Wellington and Field beyond.
It wasn't supposed to be about birds but the sight of the gull steered our conversion that way. It was special bird for me, a Pacific gull, and one I rarely see on my rounds around Hobart, where the less spectacular kelp and silver gulls are present.
It is the latter two species that gives gulls a bad name, with their fondness for the food discarded by humans.
Around the Victoria Docks in Hobart port it is silver gulls that harass patrons at the fish punts and, a little further afield, kelp gulls that mass on the city rubbish dumps in South Hobart and, after feeding, carry off plastic to line their nests on islands in the Derwent and beyond.
The Pacific gull, though, remains true to its ocean environment and is generally more commonly seen on beaches fronting open ocean, as at Dodges Ferry and Primrose Sands nearby.
The bird sailing through the rainbow was easily identified as a Pacific gull. Although similar in size and appearance to the kelp gull, it carries a wide black band on its tail, whereas the kelp gull's tail is pure white. Close up there are other noticeable differences. The pacific gull's plumage on its head, neck and undersides  appears a crisper white than that of the kelp gull – as though it has just emerged from the dry cleaners – and its bill is plier shaped and brighter in colour, noticeably orange instead of yellow.
The silver gull is considerably smaller and, as its name suggests, is clothed in a plumage of silver grey with red legs and beak.
The latest research into gull behaviour has proven that junk food, like that discarded at fast-food outlets, is as bad for gulls in excess as it is for humans.
Hobart's silver gulls in particular have far higher levels of bad cholesterol than those studied on the Bass Straight islands. They are also heavier, and suffer from health problems.
The kelp gull is a relatively recent arrival as a breeding bird, only appearing in the 1950s and is believed to have colonised the state from New Zealand. It is also increasing in number, as a colonial nester able to establish big colonies on islands that are easily defended against predators that might steal eggs and young.
In contrast, the beautiful Pacific gull appears to be decreasing in number, possibly as a result of predation by kelp gulls.
The pacific gull deserves the title of "seagull" because it really is a bird of the ocean and it would be a tragedy if their numbers fell further. It really makes the Dodges Ferry vista complete .